TREASURE ISLAND – It all started in 2012 when "Captain Dan" Peretz took Art Nicholson, a close friend who was battling brain cancer, on a sailing trip on Boca Ciega Bay.
"We had been friends for 40 years and he had married on one of our boats. I just wanted to give him and his keepers a break. I could see it light up as we cruised around the bay," Peretz says.
This initial trip was so successful in boosting Nicholson's spirits that it became a regular occurrence.
"Those Sunday morning sails brought so much happiness to Art and gave everyone precious memories of his last days. Spending time together on the coastal waters watching dolphins frolic and seabirds fly was precious and therapeutic" , recalls Peretz.
In 2017, that experience led Peretz to create Soothe Our Souls, a nonprofit dedicated to easing the burden of those struggling with health issues as they enjoy the sparkling waters that slide over Captain Dan's boat. .
"Free sailing trips have become a kind of legacy for Art. On the first Sunday of every month, we take people with medical conditions, their families and caregivers on a completely free cruise," he explains.
According to the group's website, sootheoursouls.org, sailing trips are designed for "severely disabled people and their support group" to help them "navigate their path back to well-being" in " serene settings that promote well-being, synergy with others in the same boat, and a respite in nature away from it all.
Maureen Boland, 53, a regular on Sunday cruises, agrees.
"I think it's the silence, the feelings of peace when we're on the water," she says.
She particularly enjoys those sunny, crystal-clear days when she can watch dolphins playing alongside the sailboat, manatees floating and feeding underwater, and birds diving into the water to catch fish. Her favorite moment was the day a sea turtle was swimming near the boat.
"You see them on the beach, but you never expect to see a turtle swimming in the water," says Boland.
Suffering from viral encephalitis in college, she still has difficulty speaking and walking. But sitting in Captain Dan's sailboat helps him forget his condition.
"I love Captain Dan. He is so calm and a wonderful teacher," she says. "I try to get out on his boat every month. It gives sick people and their caregivers a sense of normalcy," Boland says.
"Very often in life you are defined by what you can and cannot do, by your disability. But on a boat, it's not strange if you can't walk around," she adds .
The Soothe Our Souls sailing trips, held on the first Sunday of each month, have become so essential for the transplanted Chicagoan and her husband, Roy, that he has started volunteering as a crew member and is sometimes a sailor more frequent than Maureen.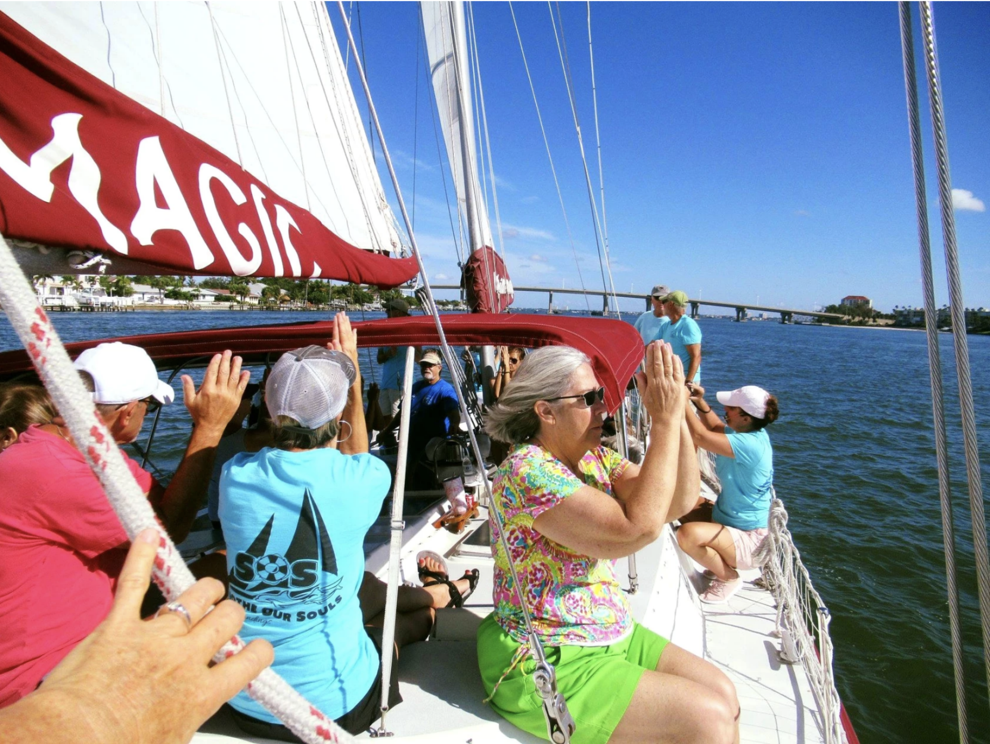 He is often joined by health volunteers as well as yoga and meditation professionals who ride to ensure health safety and offer advice on nutrition and healing activities.
"We want to provide healing both on and off the boat by giving our customers the knowledge and healing tools they can use at home," says Peretz, who is also president of Dolphin Landings Charter Boat Center.
The monthly sailing trips became so popular – serving thousands of people on more than 100 cruises – that the organization soon began looking for a permanent home.
That search, interrupted for nearly two years by what Peretz calls "our boyfriend, Covid," culminated in March when Peretz and more than 70 of his friends and supporters gathered to celebrate the grand opening of a fire station. 1930s firefighters at Sunset Beach as the organization's official headquarters.
A newly constructed wharf, patio and remodeled building that once housed the Boca Ciega Sail and Power Squadron and flanked by mangroves not only serves the organization's expanded sailing program, but is also available for private event rentals to to fund Soothe Our Souls.
The facility, just one block south of John's Pass, offers a full-size kitchen, bathroom, bar area, dance floor, outdoor patio, private dock, and beach access. On-street and off-street parking is available.
"We are proceeding with caution, but we have already hosted a baby shower and a Sweet 16 party," Peretz says, adding that she is available for birthdays, anniversaries, family reunions, weddings, corporate retreats. , workshops and, of course, fundraising for SOS. More information is available on the venue's website, https://www.tiwaterfrontvenue.org.