The Best Outdoor Activities in Bloomington
For those looking to get active in Bloomington, there are plenty of activities available to get your blood pumping. With an assortment of outdoor attractions, urban trails and specialty recreation, there's an option for all fitness levels, from those who want to fit in for a simple stroll to those who desire a heavy sweat session. Ditch the hotel gym and opt for one of these fun activities instead!

active leisure
Golf at the Pfau course
Rated one of the Top 100 Golf Courses in North America by GOLF.com, Indiana University's Pfau Course is a unique way to experience Bloomington while sweating it out. The 18-hole, Par-71 course has been designed to be accessible to players of all abilities, from championship golfer to casual golfer, with six tee options and a practice and practice area that includes a driving range, bunkers practice area, a short-playing practice area, a practice green, and more.

Ice skating at Frank Southern Ice Arena
From October to March, you can rent a pair of ice skates and slide down the ice rink at Frank Southern Ice Arena. It's a great way to get your body moving during the colder months while having fun!

Climbing in Hoosier Heights
Another unique way to exercise while on your trip is to rock climb at Hoosier Heights, Bloomington's premier indoor rock climbing facility. There are climbing experiences available for all skill levels – take advantage of free rock climbing, lessons and clinics for new climbers.

Skateboarding at Switchyard Skate Park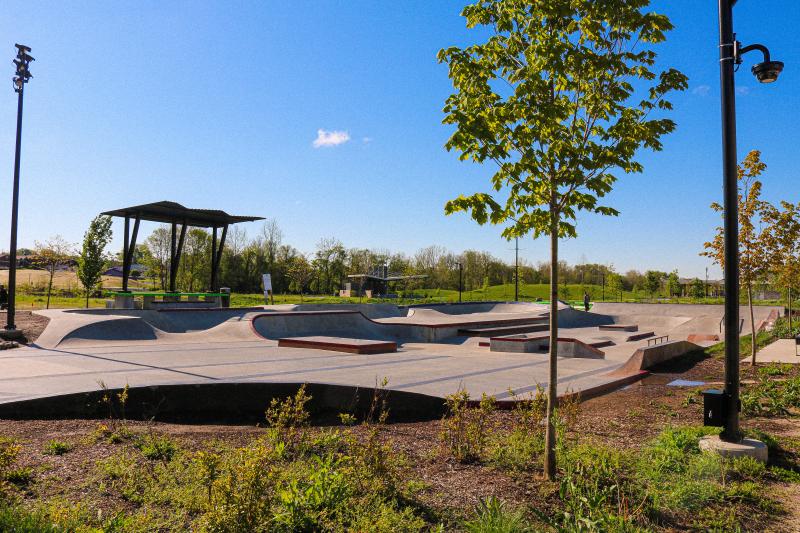 Bring your board to B-Town so you can experience the Switchyard Park skatepark. The concrete park includes several bowls and benches, a grinder box, a hubba, a flat rail and a handrail, a pyramid, etc. If you're staying downtown, you can even get from your hotel to the park by riding the B-Line trail on your skateboard.

Jump at Urban Air Adventure Park
Looking to get the whole family's blood pumping? Spend a few hours jumping at Urban Air Adventure Park! The indoor trampoline park features tons of trampolines, a Ninja Warrior course and Wipeout course, rock climbing walls, a slam dunk area, and more.

Indoor skating at Western Skateland
Another great exercise option for families is roller skating at Western Skateland. Strap on a pair of roller skates and roll on the floor while listening to great music – the nostalgia factor is unbeatable for adults, and kids will have a blast under the neon lights too.
Aerobic activity
Walk around the campus of Indiana University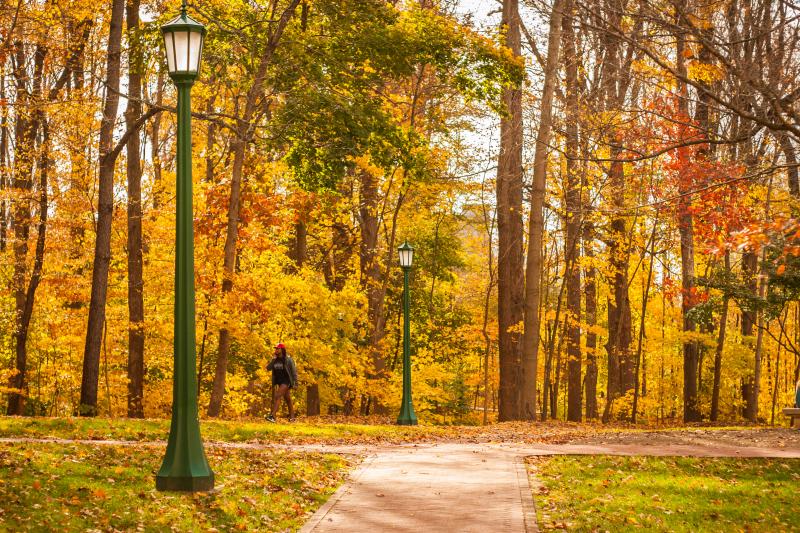 Walking the Indiana University campus is both a great form of exercise and a breathtaking architectural and educational tour. While there is a vast expanse of sidewalks and trails that plot routes through and around campus, there are also four dedicated walking trails: the Woodlawn Loop Trail, the Cox Arboretum Art Trail, the Shaded Wilderness Trail, and the Red Brick Trail. Each trail is approximately one mile long, and all four trails connect to each other, so it's easy to expand your route to include more miles.

Cycle the trails of Wapehani Mountain Bike Park
Wapehani Mountain Bike Park was Indiana's first mountain bike park, and it remains a unique offering in B-Town. The park features five miles of mostly single-track trails on 46 acres of wooded and grassy land, offering challenges and respites for every level of experience — though most trails are geared toward intermediate experience. Get your blood pumping as you explore one of Bloomington's best outdoor attractions on two wheels!

Swim in the outdoor IU pool
Do you have a passion for exercising in the water? Head to IU's outdoor pool. The Olympic swimming pool offers 10 lanes and a diving well. Fitness options include lap swimming and a variety of instructor-led adult group exercise sessions for all fitness levels.

Run the B-Line Trail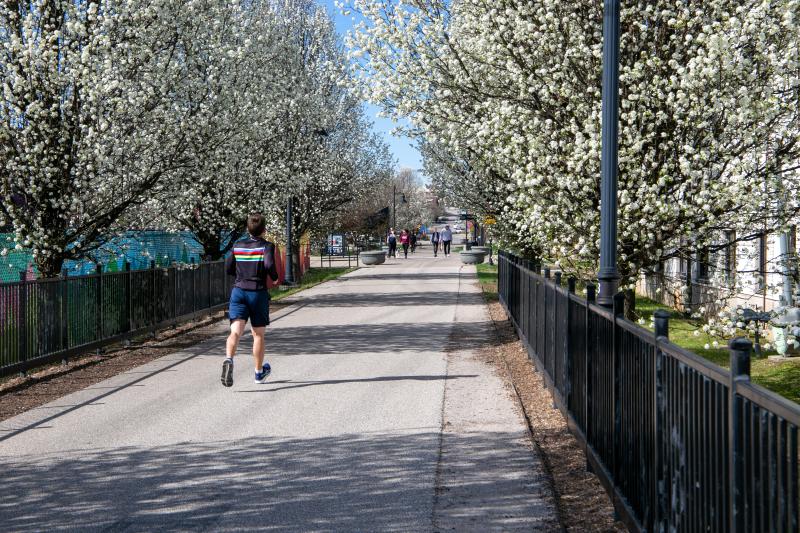 The B-Line Trail is a 3 mile paved trail that runs through the heart of downtown Bloomington. For those staying in the area, there's no better way to start your day than with a run on the trail. Not only is it a smooth and spacious path, but it's also an interesting route, as it winds past several shops, restaurants, and other attractions. You'll have plenty to see as you walk the trail, which will hopefully take your mind off the physical exertion!

Hike in the Hoosier National Forest
Hiking enthusiasts should visit the Hoosier National Forest, home to over 200 miles of hiking trails. With 27 different trail systems ranging in length from 0.8 miles to nearly 49 miles, there's a National Forest hike for every level of experience. One of the locals' favorite trails is the Sycamore Trail, a 4.9-mile hike that's popular due to the 110-foot Hickory Ridge fire tower at the trailhead – climb the 133 steps for a view of Monroe County like no other.

Cycle the Clear Creek Trail
The Clear Creek Trail is a 2.4 mile paved trail that spans 20.8 acres of wooded land and open grassy areas. The trail is one of the quietest and least trafficked paved trails in town. So cyclists can enjoy this trail more than others because there are fewer people on foot to keep an eye on. Clear Creek Trail also connects to the Bloomington Rail Trail at its northern end and the Limestone Greenway at its southern end, providing an additional 3.7 miles of bike trail for those wishing to travel a longer distance.

Kayaking at Griffy Lake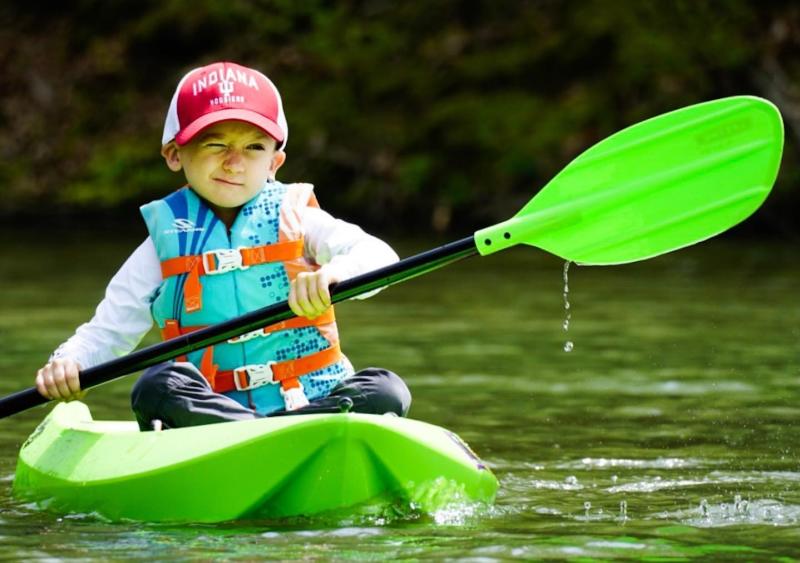 Photo by Erika Rogers
Do you like kayaking? A trip to Griffy Lake Nature Preserve is a must. The peaceful lake is only open to non-motorized boats, so it's ideal for those who want to kayak around town. Bring your own boat to Bloomington or rent one from the boathouse on the lake. If you're looking for more exercise once you've finished kayaking, consider renting a paddle board if you want to stay on the water, or explore the many trails that run through the nature reserve if you prefer to be on land .

Roller-Skate on the greenway of the karst farm
The Karst Farm Greenway offers 4.5 miles of paved trail through the west side of Bloomington towards Ellettsville – why not switch from walking and biking to try roller-skating instead? Much like the B-Line Trail, the smooth, spacious nature of the Greenway is ideal for roller skating. For those new to the hobby, be sure to put on elbow and knee pads to avoid potential injury in the event of a fall.

Practicing yoga at Dunn Meadow
Yoga lovers, we have not forgotten you! Enjoy a peaceful, grounded outdoor practice at IU's Dunn Meadow. The open, grassy area in front of the Indiana Memorial Union is the perfect space to stretch your body and find your zen. If you fancy a little more fitness after your workout, take a stroll through our beautiful Hoosier campus.


Looking for more blood pumping activities in B-Town? Check out these blogs: