Until recently, all this house had to recommend were its exterior walls, rough support beams and concrete subfloor. Oh, and its jaw-dropping location — a five-minute walk to Southern California's Pacific Palisades beaches one way, five minutes to Santa Monica's hiking trails the other way.
A year later, and that same property is unrecognizable. Purchased from a developer in its shell state, it is now a beautifully finished and thoughtfully designed home, filled with luxurious touches, natural colors and textures, and surprising highlights here and there that stop you in your tracks.
Outdoor space here in sunny Southern California is just as important. Landscaped gardens are arranged around the pool and planted in a series of terraces. And even when you're inside the house, the floor-to-ceiling windows and retractable glass doors give the illusion of being outdoors. This perfect synthesis between interior and exterior spaces, and the harmonious designs of both, make it one of the best homes in the world.
The person responsible for the dramatic change in the appearance of the property is designer Lindsay Chambers, of Lindsay Chambers Design Studio. This is Lindsay's own home and her transformation, she says, has given her the opportunity to take some of her favorite design elements she's used over the years and incorporate them into her personal project. .
The importance of outdoor space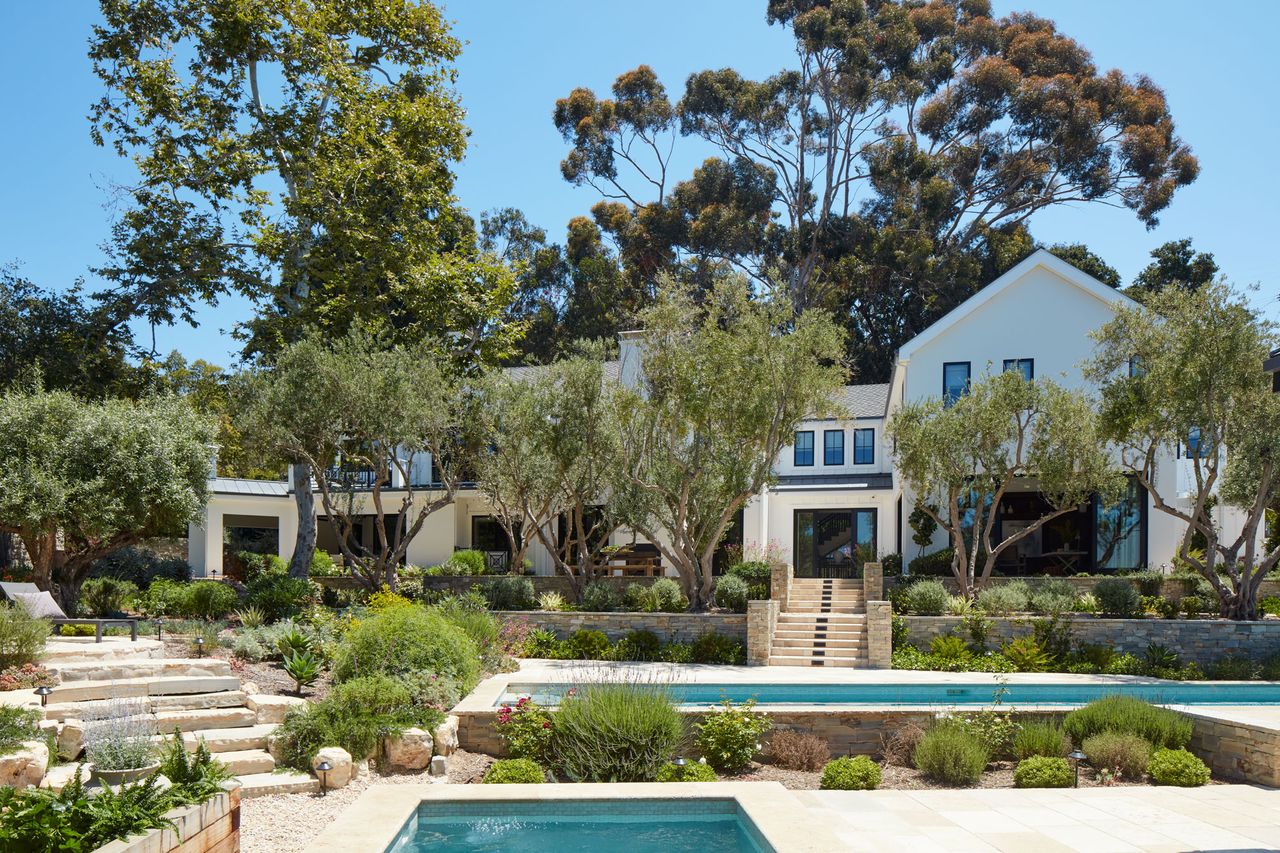 "In a place like this," says Lindsay, "where the weather is so good all year round, it was important that the house felt connected to the outdoors because I spend a lot of time outdoors on the property. I also like to play sports with my friends and garden, so I added a petanque court, a lap pool and garden beds.
The garden has been landscaped and planted from scratch, working with and around the only existing features of the plot – several mature native fruit trees dotted throughout the garden.
As the planting begins to fill in, the outdoor space really comes into its own, garden landscaping ideas include a series of stepped terraces, winding paths around curving olive trees and fruit trees and the star, an attractive swimming pool that reflects the sunny Santa Monica skies.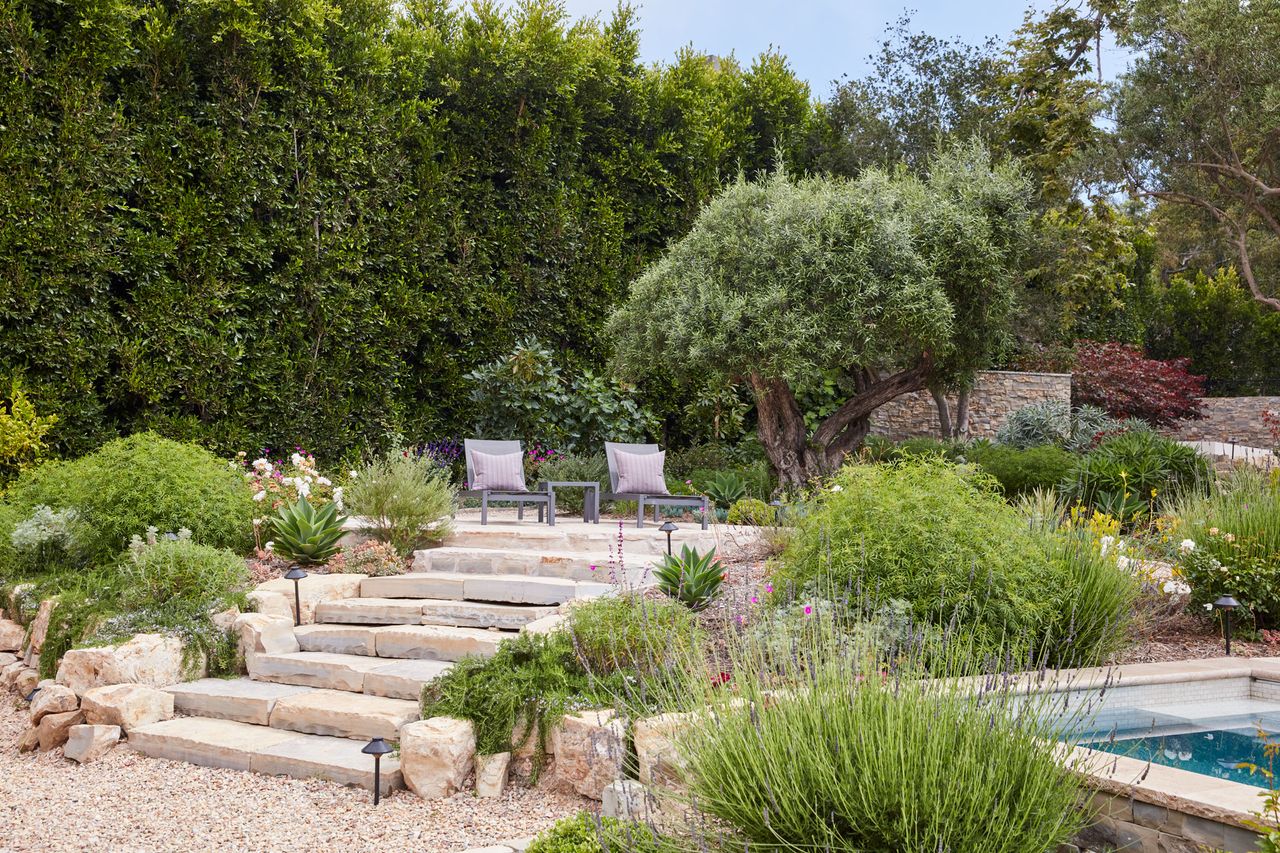 The main entrance – a transitional space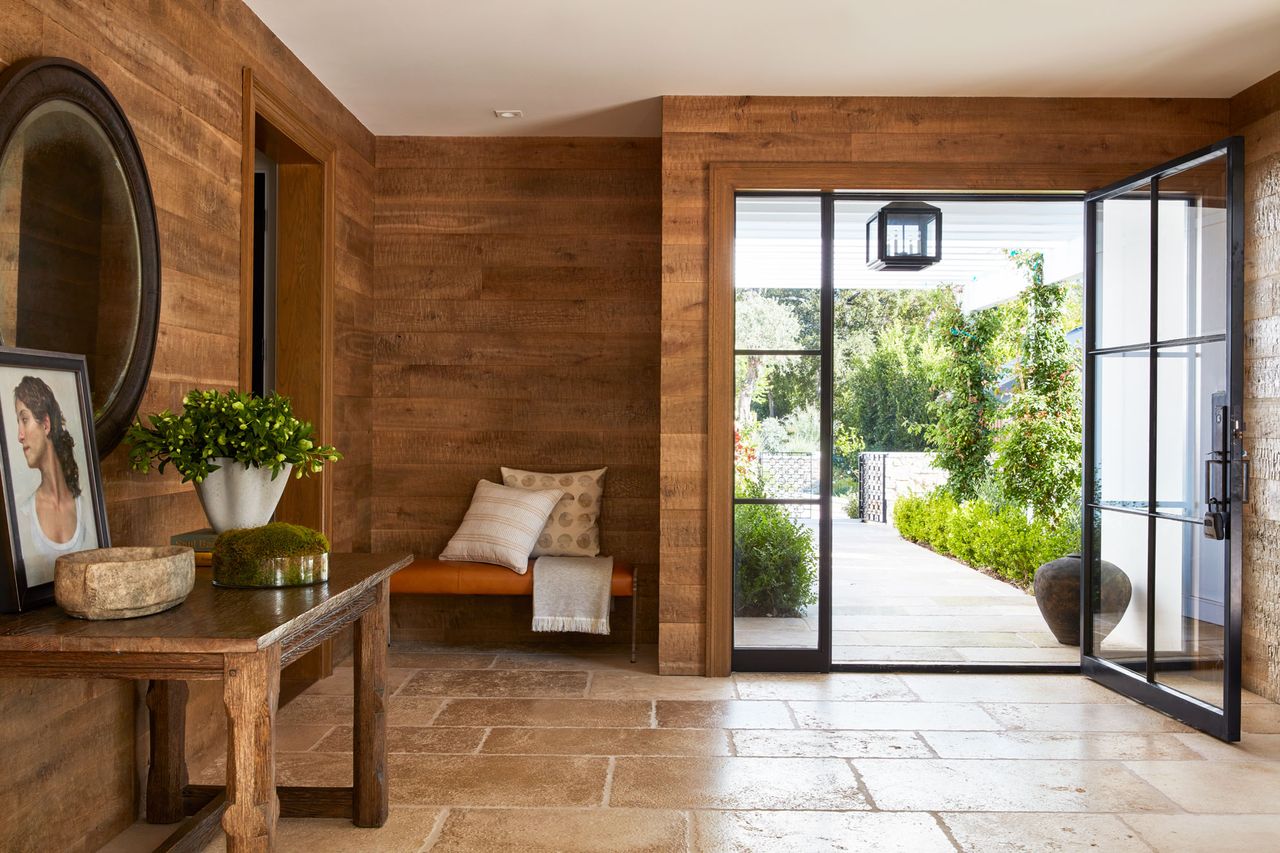 The front entry hall is full of inspiring entry ideas. Lindsay says she wanted to bring "that feeling of being on a transitional farm that was tied to the outdoors." I continued the limestone flooring of the patio inside and clad the walls in reclaimed wood," she explains.
Kitchen open to the garden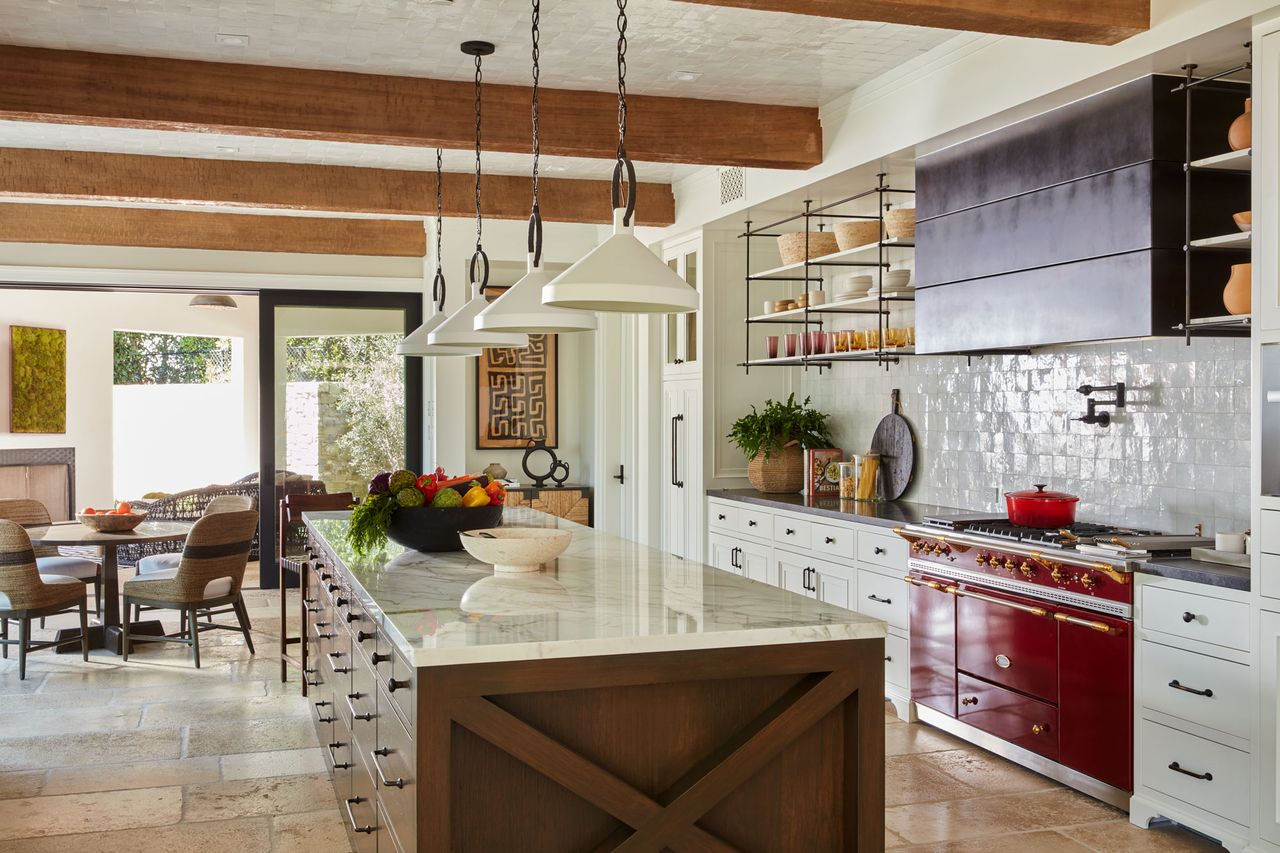 It was important for the kitchen to feel connected to the outdoors since indoor/outdoor living is such an important part of Southern California life – that was Lindsay's starting point for the kitchen ideas here. The kitchen was originally enclosed, but Lindsay opened up the back wall with floor-to-ceiling Anderson glass runners, and continued the French limestone flooring in the kitchen to a new outdoor patio to further connect both spaces.
Lindsay says she was inspired by the French design of the transitional farmhouse and bought the cooker – along with the oak beams and limestone floor – directly from France.
"The apothecary-inspired island and handmade backsplash and ceiling tiles also reference European design elements," says Lindsay. "And although I like kitchens with relatively neutral colors, I wanted to have fun, so I installed the stove in French Burgundy. Providing a neutral backdrop helped show how pretty the stove looks.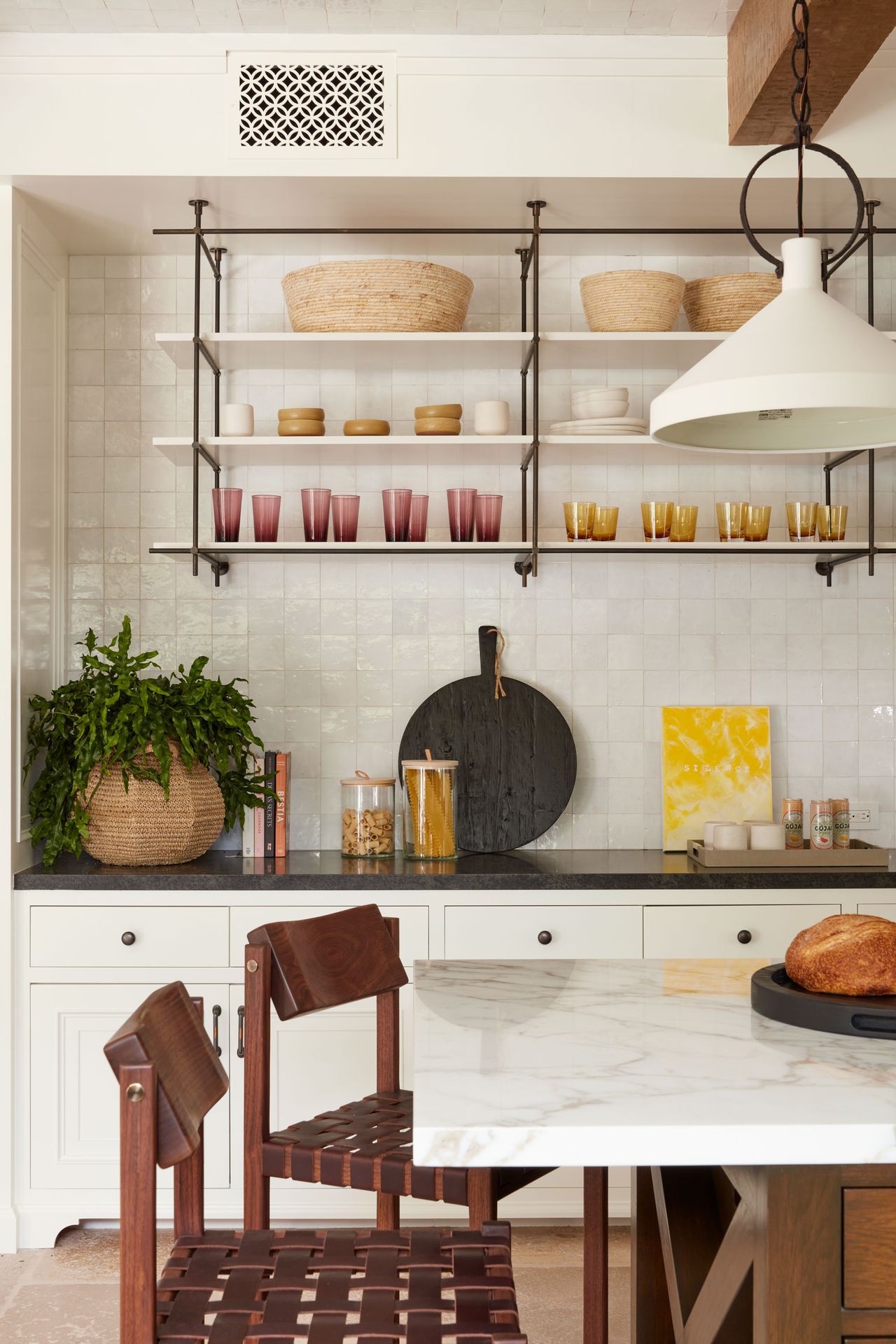 As Lindsay considered her kitchen storage ideas, she opted for a mix of built-in cabinets with smart open display shelves. "I like a nice kitchen with clean lines and earthy materials," she says. 'I also love to cook and wanted to design a practical space with surfaces that could hold citrus fruits, red wine etc. using calacatta marble on the island solely for design interest and contrast within the space.
Breakfast – inside and outside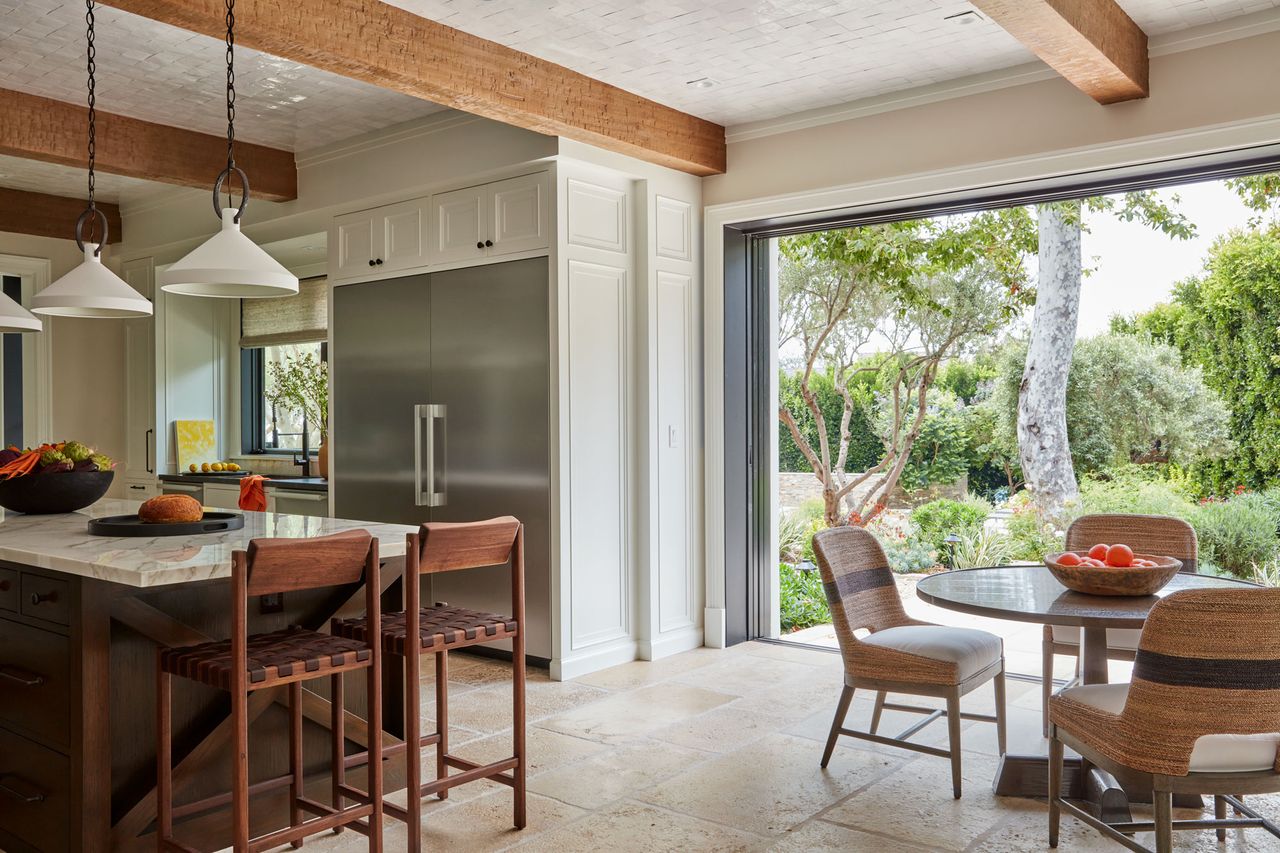 The kitchen end walls open completely with floor-to-ceiling sliding glass doors. Meanwhile, the French limestone used on the back patio has been continued in the kitchen so that when the windows are open the indoor and outdoor spaces feel seamless and when you're seated at the round table it's hard to tell. whether breakfast is indoors or outdoors!
Living room for all seasons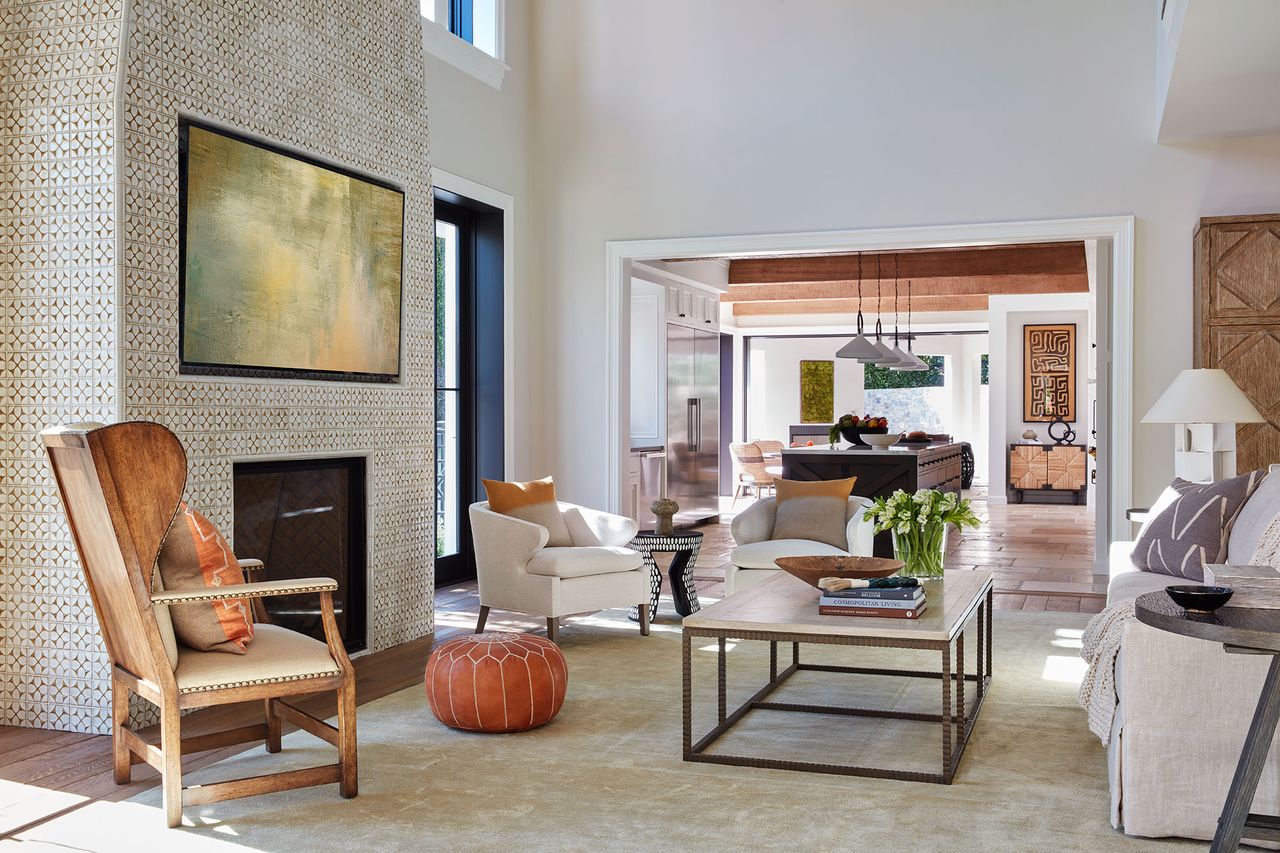 Although the focus in this home is on connecting indoor and outdoor spaces, the living room gets a special treatment. For anyone looking living room ideas this space shows exactly how to balance comfort for evenings and cooler weather and an airy, open plan for summer living.
Seating is clustered around a tiled fireplace, but with its high ceilings, tall windows and unobstructed views of the other main rooms in the house, it becomes a room for all seasons. Lindsay adds, "My goal was to make the house warm, cozy and comfortable in a way that felt connected to the outdoors." We think she pulled it off in style.
Room with a view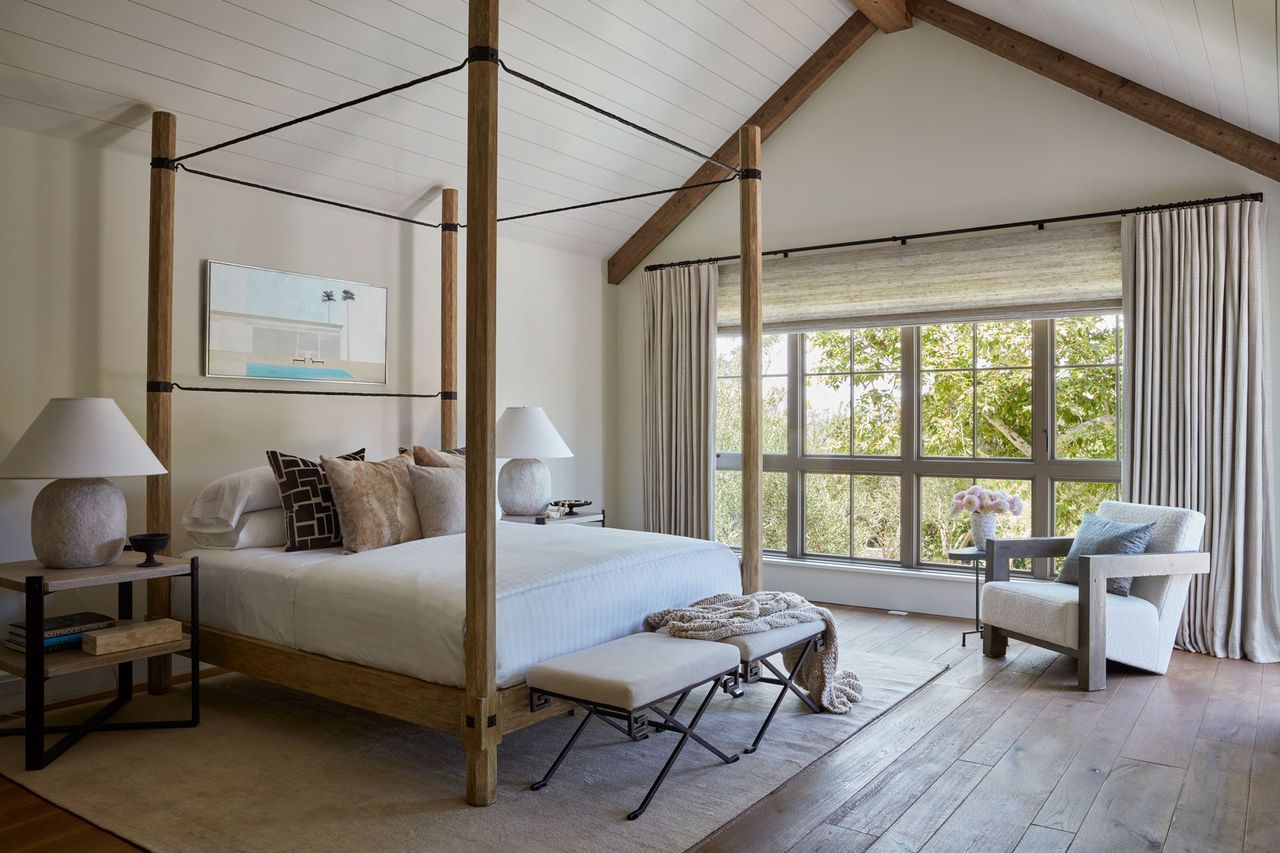 Anyone who seeks bedroom ideas could take some styling advice from this dream bedroom. With its all-natural finishes, it blurs the lines between what's outside this beautiful window and what's inside. It really could be a sanctuary in the trees.
Main bathroom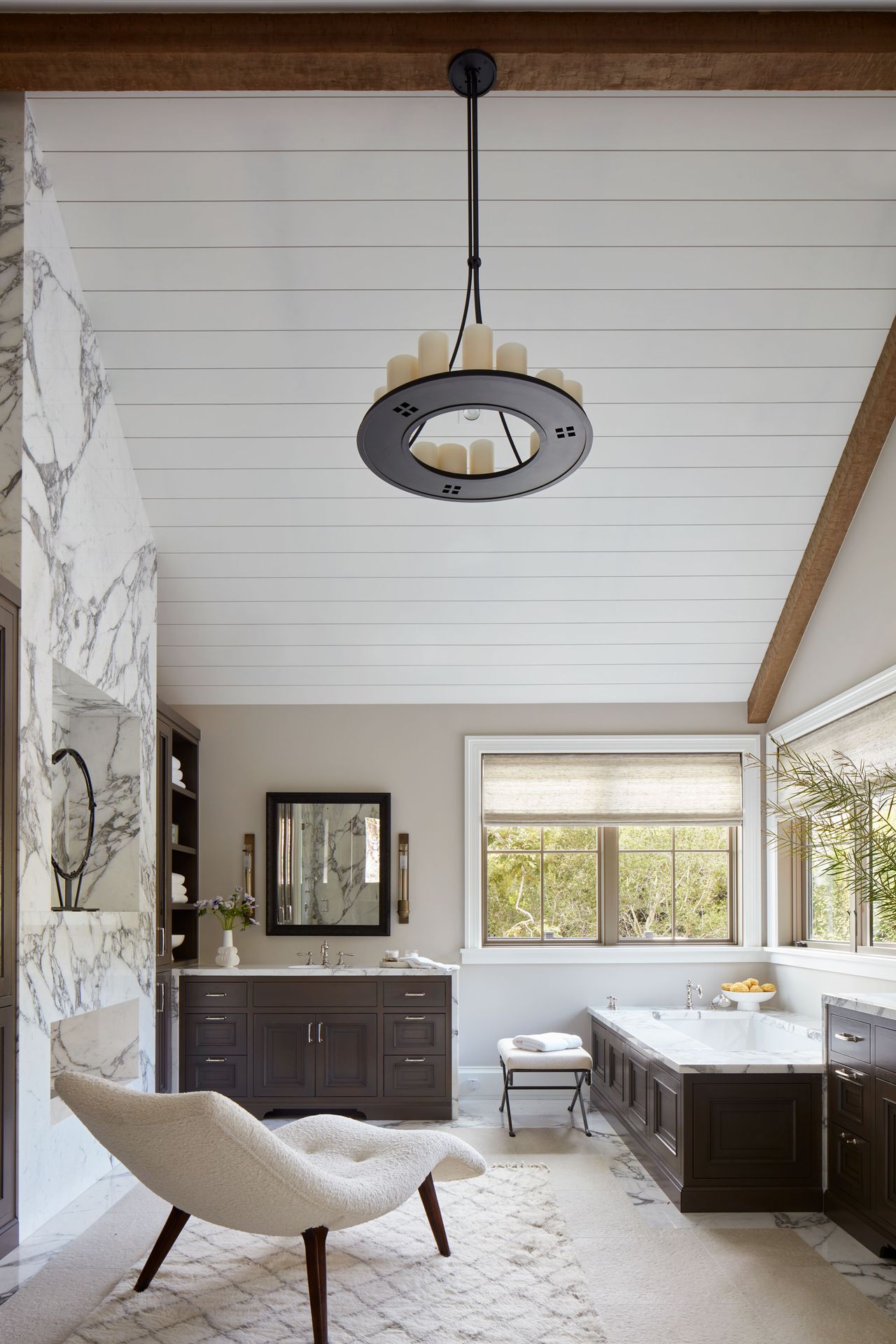 This master bathroom is one of designer Lindsay's favorite spaces. His key bathroom ideas here were to create a spa like bathroom. "Luxurious, special and warm, but not too high," she explains. "It was important for me and my partner to have our own really separate sink space as well, so counter items didn't get cluttered." Indeed, the two sinks are at opposite ends of the room – no morning bathroom clutter here.
The pool house and a space for entertaining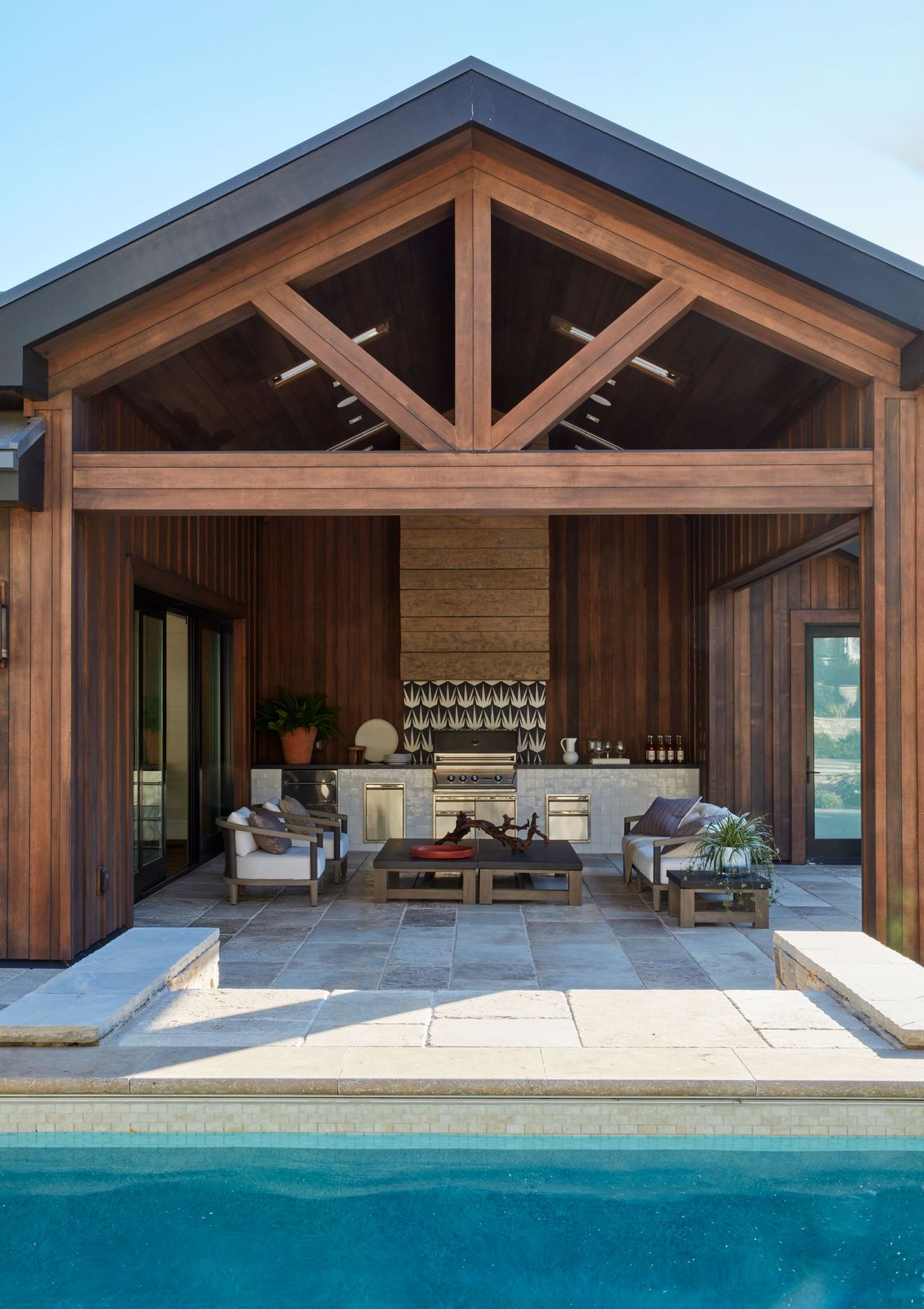 If you're going to entertain outdoors, do it in style – California style. This pool house with a dedicated outdoor kitchen and comfortable seating area ensures that every last drop of sunshine and fresh air is enjoyed to the fullest. It's the ultimate blend of indoor and outdoor living.