Ecocapsule, a sustainable solution for outdoor living
Have you ever thought about owning a small sustainable living space? Or simply being able to enjoy the outdoors without having to think about the need for electricity or water? If that is the case Ecocapsule could be the perfect choice for you.
The story of the ecocapsule
It all started when the architectural firm Nice Architectes entered the Andes Sprout Society Ideas Competition. Their mission was to design a small accommodation for an artist on land with no infrastructure.
Although the project did not win the competition, it attracted the interest of many due to its very distinct design. This prompted the architects to continue working on this project.
The first prototype was completed in 2014. Today, while working to improve the current Ecocapsule, the designers are also investigating other applications of some of the Ecocapsule concepts.
---
RELATED ARTICLES: Hydronic Shell Technologies: Retrofitting Buildings to Achieve Net-Zero Emissions | Top 5 Green Building Words of 2020 | An Interview with RE49: Back to 1949 | Interview with Peace and Skin: Skincare as a stress reliever |
---
Technical specifications of the ecocapsule
The current Ecocapsule is 4.70 m long, 2.20 m wide and 2.50 m high. It weighs just over 2,000 kg (with empty tanks). It is equipped with a wind turbine that generates up to 750 watts, while solar panels on the roof could generate a maximum of 880 watts. The battery capacity is 9.6 kWh.
The design aims to maximize rain and dew collection. The water then passes through filters which transform it into clean water. The outer shell minimizes energy loss, while the walls are filled with highly efficient thermal insulation materials.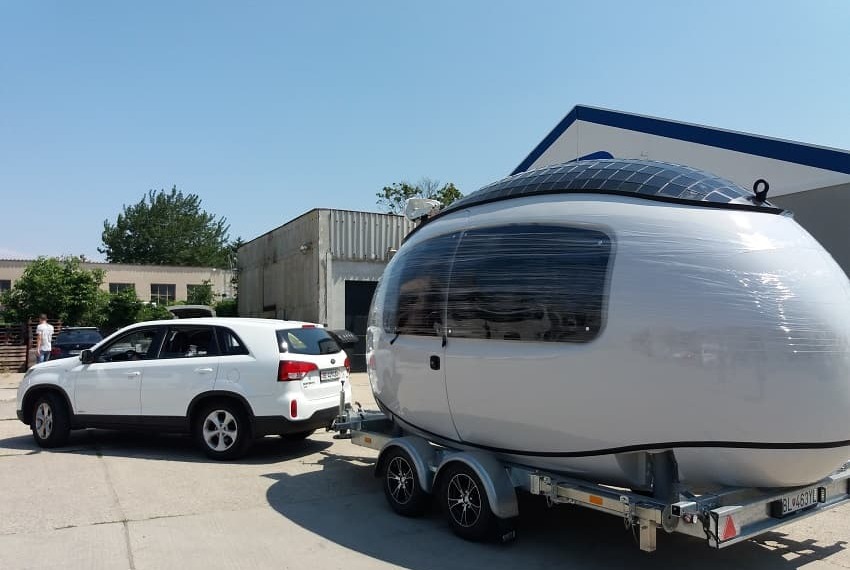 Inside the Ecocapsule
The interior of the Ecocapsule is equipped with a kitchenette, a bathroom with shower, and a space that serves as a living room but which also turns into a bedroom and possibly an office. There is 6.3 square meters of interior space available in this small space.
The Ecocapsule does not have to be used for remote outdoor living. It could also become a pop-up hotel, mobile office, research station and more.
The design allows for easy transportation. From being able to be loaded by one person on a trailer to converting the Ecocapsule into a floating home, there are endless options for sustainable living.
---
Editor's note: The opinions expressed here by Impakter.com columnists are their own, not those of Impakter.com –Credit for all photos: Ecocapsule.